My beautiful sister Lauren is halfway through her first pregnancy, and on Wednesday she had her appointment where they determine the sex of the baby! We're all so excited. Here's the video she made to share with the family:


When I watched the video (which was the phone call I had to take a break for while I was doing my hair tutorial!), I was on the phone with Lauren. I was crying, and then when it started to break up I got SO IMPATIENT! I *might* have called Lauren something one should not call a pregnant lady ;) Tricky, tricky!!

Chris and I thought it'd be a boy, we're certainly due for one in the family! There's the three of us (sisters: Lauren, Cara, and me), and Cara has two daughters. It'll be nice to have a boy in the family, and I know Lauren and Kyle plan on having at least one more child, so it'll be so sweet for them to have an older brother.


Now that we know it's a boy, I'll be starting tons of boy-baby handmade projects, and you can count on me sharing them here!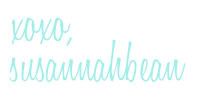 PS: I totally understand the irony of posting Real Talk the other day, and posting something every day since then! I guess that anon was the kick in the pants that I needed :)