I've had my
Etsy shop
open for a few years now, and over time it's picked up speed and grown little by little. It's by no means a "big" thing, I sell a handful of items a month, maybe a few more in the winter. The whole thing started as a receptacle for all the stuff I made that I didn't have room or use for when I was in college. But now it's definitely become something I truly love and I'm proud of. Maybe it's because of the way my shop started-- more or less as a hobby-- but I've always felt a little naive about my shop as a business. That's why I never really worried about my photos being stolen or not getting the proper source when posted somewhere else. But I've gotten a handful of messages about my images being used on different sites without credit, and I started to get a little concerned. That's why I decided to start watermarking my product photos. I wanted to make an image that was noticeable enough and that wouldn't be easy to crop out if one was so inclined. I'm still a little unsure about how the watermark looks, so I was hoping you guys would give me your opinions!
This is the first image I used it in...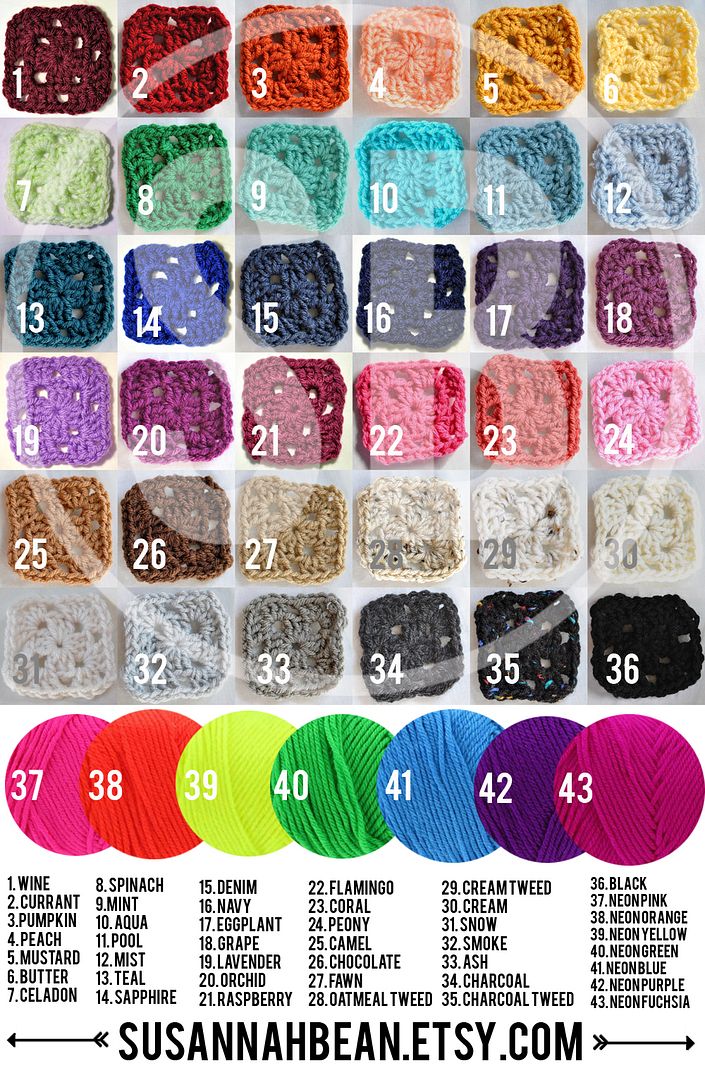 I made a new color card since I added a few more options (numbers 1, 7, 14, 16, 19, and 21). I made the big "SB" image to use, and I slapped a huge one in the background. The watermark is at 50% opacity. I'm pretty confident in this one, I don't feel like I need to edit it anymore. My main concern is that perhaps some of the colors are too hard to see with the thicker parts of the letters on top of them.
Next I started putting a similar watermark that included my link on my product photos...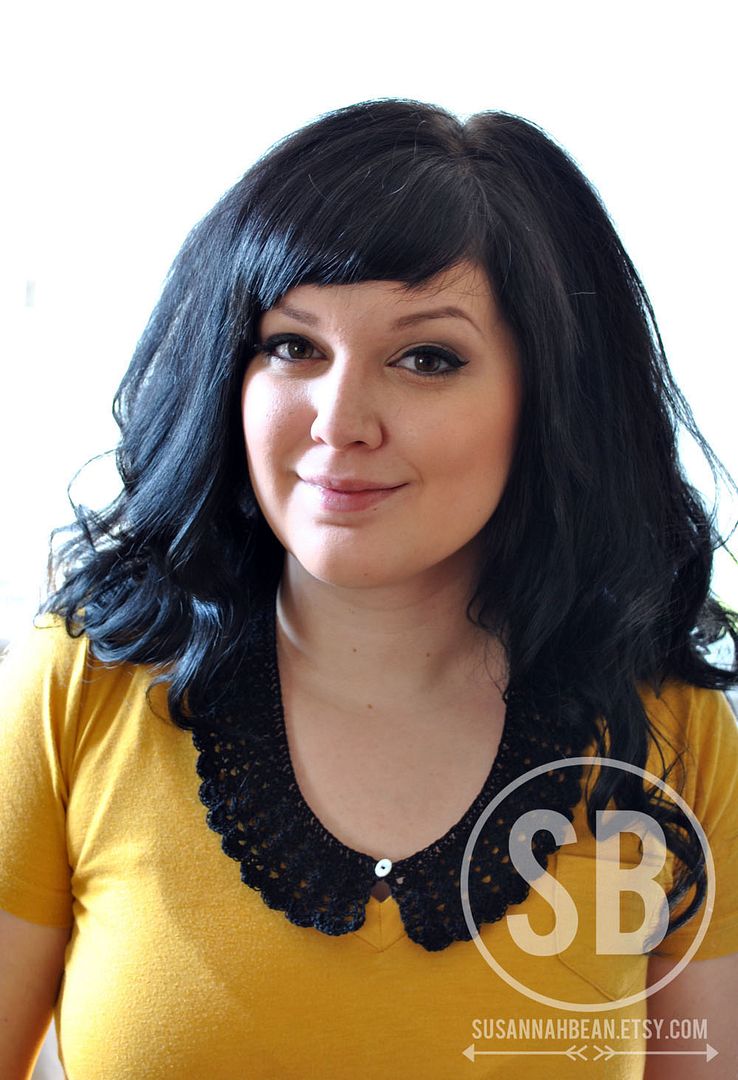 I did a few sets of photos like the example above, but then I started to feel like the watermark was way too huge. I put this image on Instagram asking for feedback, and a lot of people loved it. A lot of other people said that it was too big and too opaque. I'm definitely in agreement now.
Next I tried reducing the size and opacity...
I think this looks better that the example above, but I'm still not 100% sold.
I also made a gray version for photos with white backgrounds...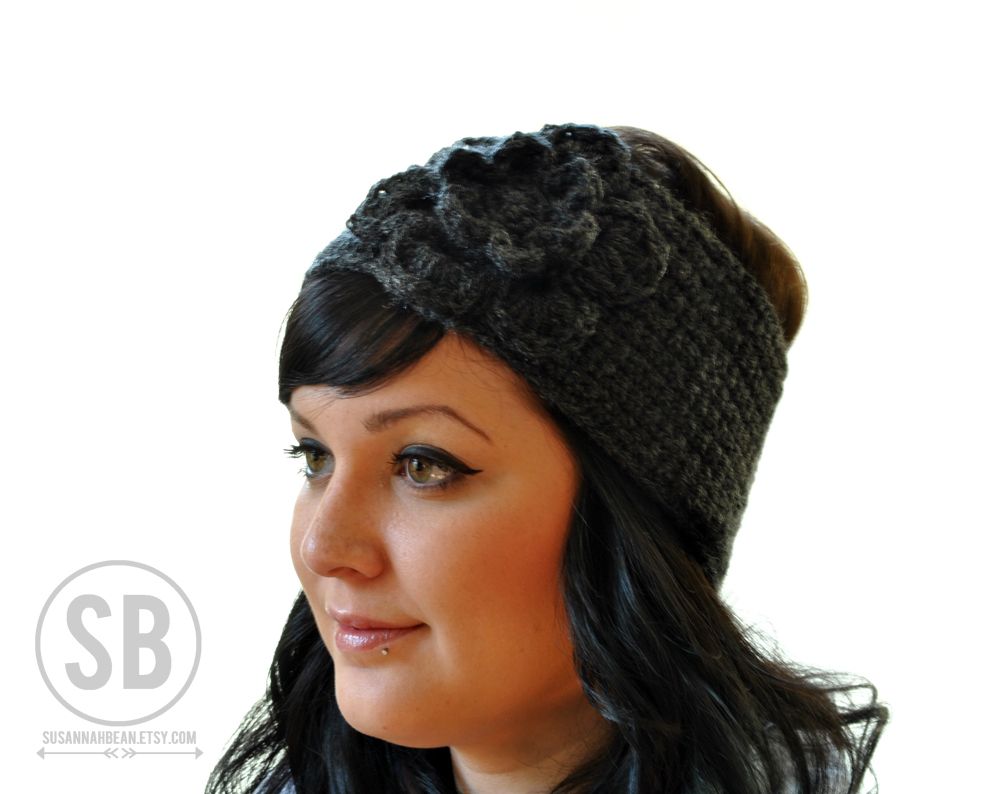 I realize this one wouldn't be too hard to crop out, but I would much rather use this than paste a white one over my face or the product.
All in all, I think I like the smaller/less opaque version I came up with, but the problem is I'm still not totally into the idea of having a watermark on all of my images. I like the idea of it, but I don't completely love how it looks. When you look at my shop's home page, some of the item's thumbnail photo shows the watermark. I feel like maybe it's too distracting? I can't quite put into words why I'm still indecisive about it... Anyway, here's where you come in! As a customer, do you find watermarks distracting/annoying/off-putting? If you're a seller, do/would you use watermarks? I'd love to see an example of yours if you do, please leave me a link in the comments so I can check out how other people use them. What do you think of my design? Would it be better to leave off the circled SB and just have the link and arrows?
I really appreciate any and all opinions and information you guys can give me! Thank you :)