My little corner of the internet has grown over the last few months, and a few weeks ago I hit a pretty big milestone, 100 followers! Since then a few more of you have joined the group, and I wanted to say thank you! It really means so much to me that you guys stop by to say hello, and your sweet comments and encouragement mean a lot to me! After a few weeks of indecision about what to give away this time around, I've finally narrowed it down to a group of stuff I'm pretty excited about!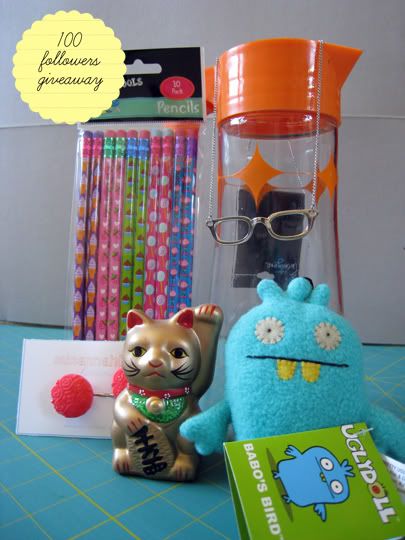 Clockwise, starting at top left:
1 pack of cute pencils
1 super awesome retro pitcher
1 adorable nerdy glasses necklace
1 keychain ugly doll
1 lucky kitty mini statue
2 button barrettes from
my shop
In addition to everything shown in these photos, I'm taking a cue from the lovely
Justine from Productrater
and including EITHER one regularly priced MAC eyeshadow OR one regularly priced MAC lipstick. When I won her giveaway a few weeks ago, this was definitely the part I found most exciting, and I thought it was such a brilliant idea (thanks Justine!!)! Please keep in mind that I will only include a shade of eyeshadow or lipstick that is listed on the MAC website as a currently sold item. The special collections are open for you to select from as long as the item is regular price (US $14.50 for shadow and lipstick).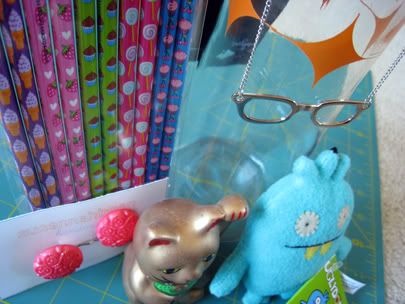 Here are the rules for entry:
1. Follow this blog and leave a
comment
here telling me about a
secret talent
(mine is I can make a clover with my tongue!)
BE SURE to leave your email address!!
2.
Tweet it!
Please mention me,
@susannahbean
, and include a link to this post.
Leave a comment here with a link to your tweet for an entry!
3.
Blog it!
Post an entry on your
blog or website
that links back to this post!
Feel free to use my images if you want!
Leave a comment here with a link to your post for an entry!
4. For an
extra 5 entries
, buy something from
my etsy shop!
When you checkout, be sure to tell me you want to be included in the giveaway and leave your email address in the 'message to seller' section!

Entry will be closed next Sunday (September 19th) at 5pm CST! Any comments left after that time will not be included.

Good luck everybody!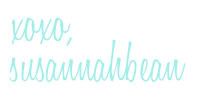 [scallop detail courtesy of the lovely and talented pugly pixel!!]