Chris and I had a super relaxing day today. We started off by eating a late lunch at our favorite restaurant in town, Bulldogs. We've started a routine where we go every Monday, and I'm really enjoying it! Bulldogs is a cute little burger joint in downtown Wauconda. It has a retro-feel, and a crazy menu. Chris tried their daily (weekly?) burger, El Capitán, a huge burger topped with lettuce, tomato, bacon, onion, cheddar, half an avocado, a fried egg, and chipotle mayo! It was HUGE!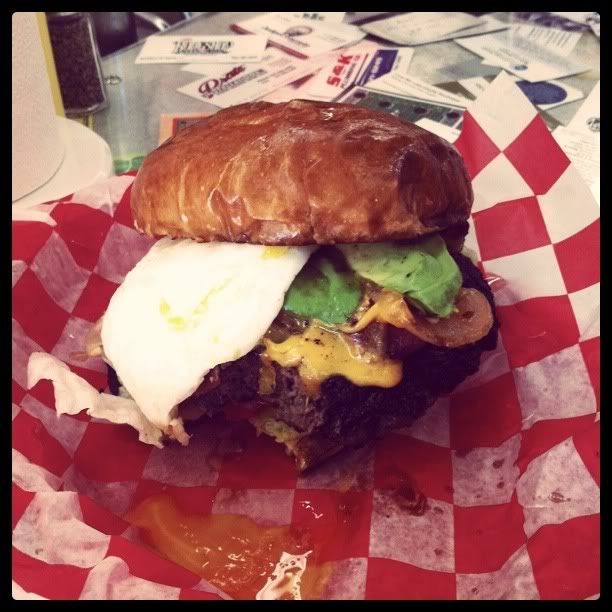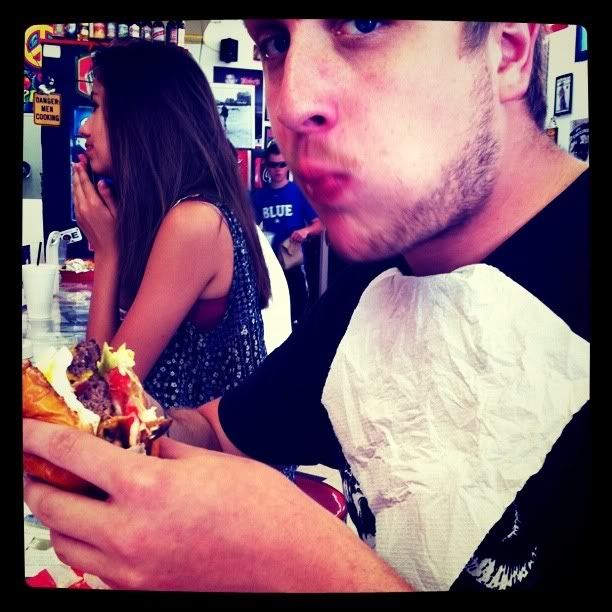 After that we headed off for Target to get a random assortment of groceries. We're trying to get our house in order for my upcoming party, so we got nice, new versions of things (like a garbage can for the kitchen, and hand towels for the bathroom). I get way too excited about things like that, we spent a good ten minutes deciding on what kind of garbage can to get! I love getting house things from Target, their in-house line of products are great and affordable. We got pretty aqua colored stuff for the bathroom, and I'm more than pumped about it. I'm a big dork :)
It was so super hot today, my car said it got up to 100°! We didn't put our air conditioners in the windows until later this afternoon, so when I was getting ready this morning I was dyyying! I made a quick pair of cutoff jean shorts before we went out and threw on a baggy v-neck tee in an attempt to beat the heat. Sometimes I need a lazy day where I throw my hair up in a crazy messy bun and wear jeans and a t-shirt, because trying to keep my hair in place and feel pretty in a dress is just unachievable. I really love these shorts though, so I'll probably wear them a lot this summer!
Earlier in the week I got a cute little package from
Miss Kaelah
, and I couldn't wait to wear my pretty new
Hive+Honey
fascinators! I love them because they're big and attention-grabbing, but they're almost completely flat against my head. I really don't like huge hair pieces that stick out, I feel like I have some weird fluffy frilly thing growing out of my skull! But these are perfect because they mix sweet and dainty with statement, and HELLO! Pale aqua is my fave!! Homegirl knows me well :)
I love pairing a cute hair accessory with a schlubby outfit, it makes me feel instantly cuter and presentable. Thanks so much, Kaelah!!
Now I'm ready to crochet the night away, and maybe work on designing my sister's baby-shower invites. With the weather as hot as it is, I can't imagine doing anything else!