If you follow me on Twitter or Instagram you've already heard the news, but I need to share here too! Chris and I brought a new little friend home...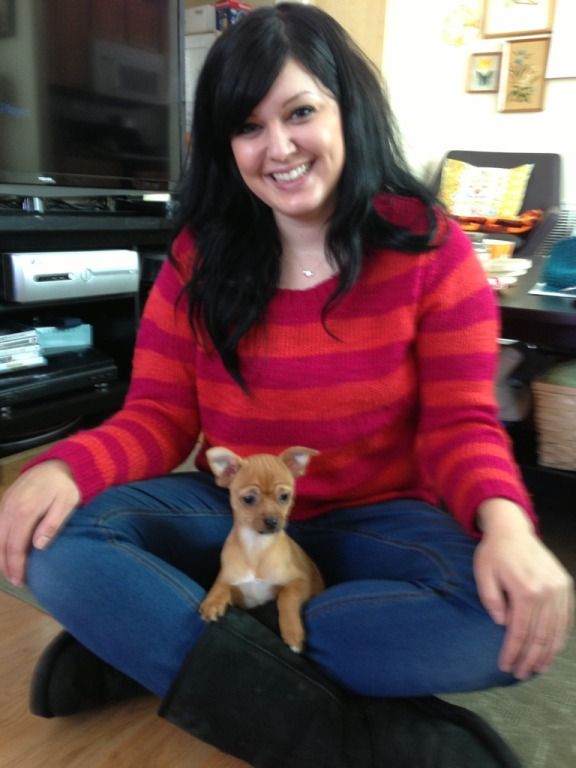 Meet Cricket! She's a 3 lb. 12 week old chiweenie (that's a chihuahua/dachshund mix). We brought her home on Sunday after a couple of weeks of anticipation. The picture above was taken by her foster mom right after they got here, so we were all very excited and it's a little shaky. And don't judge my Uggs, haha! It's been snowing like crazy here so I have an excuse... at least I hope I do! :)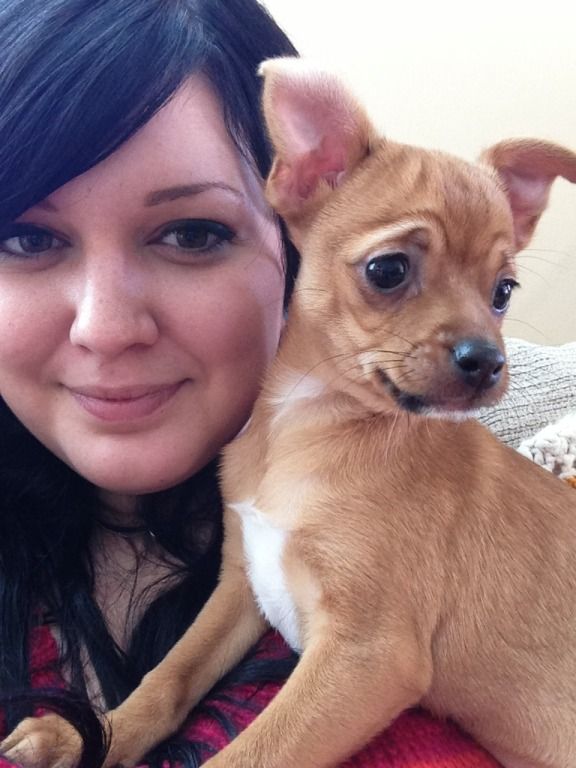 The whole story of how this came about is pretty interesting and full of coincidence, so bear with me while I share it...
I have wanted a dog for years, but it never seemed like the right time. Chris and I have talked about it for a while now, and he was definitely reluctant. He wanted to be sure that we could provide a stable and loving home, with plenty of time to spend with a pup and enough financial stability to cover whatever her needs may be. But for Valentine's Day he finally decided it was time to start looking. I've had my heart set on bringing home a little mini dachshund. I had one as a little girl and I absolutely loved her. We knew we wanted something small, Chris said he wanted a chihuahua or a dachshund. I had looked at doxie rescues in our area over the last few years just because, but I never came across anyone that seemed like a good fit. I knew we would get a puppy, for one because I thought it'd be easier to integrate a baby with Jeans, and two because Chris and I had our hearts set on raising a puppy together. I'd also checked out local breeders and found some that seemed reputable, but you really never know, and in my heart I really wanted to adopt.
When Chris gave me the go-ahead to start looking, I couldn't help but google local doxie pups that night. Lo and behold, I found a PetFinder listing for three chiweenie pups! The three little girls were adorable, but one in particular stood out. They were born in December and had Christmas themed names, the one that we loved was Holly. I was nervous but emailed the rescue organization about her. They got back to me the next day, and she was still available! I filled out an application, they checked out our references, and next thing I know we're buying toys and a leash and picking out a new name!
Everything seemed weirdly coincidental with this whole process. The timing was perfect, I wanted a dachshund and Chris wanted a chihuahua, and she's a chiweenie! Naming her too- I wanted a vintage-y girl's name like Winnie or Pearl, and Chris wanted to name her something weird and silly (his top contender was Adventure Time, followed closely by Buckets... yeah, he's 6 haha). We were watching tv and someone said cricket, and we looked at each other and said "yeah, Cricket". So she's our little bug and we've maybe been only buying her green accessories because we're dorks like that :)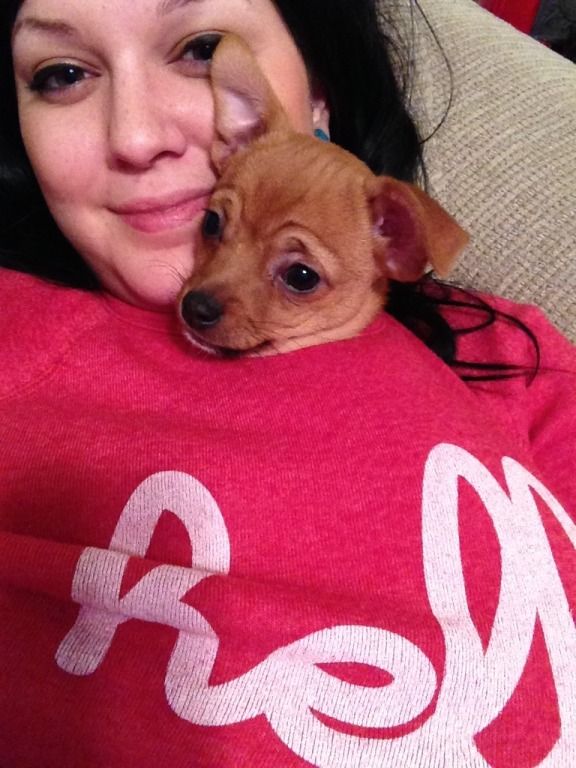 The story of the pups being rescued is pretty sad (so if you're affected by that kind of thing I'd skip this paragraph...). The pups were born to a chihuahua mom, three girls and one boy, on December 5th. A day later, the mom gave birth to a stillborn puppy, and began to hemorrhage. The owners didn't take her in to the vet for another day, and by that time she was septic and too far gone that she needed to be put down. The puppies weren't getting enough nutrition from their poor sick mama, and the deluded owners were supplementing them with coffee creamer (which makes absolutely zero sense to anyone with half a brain). The vet that euthanized the mama told the owners that either they surrendered the puppies or faced legal action. I'm not sure exactly how, but other arrangements were made for the boy puppy and the three girls went to the rescue together. They were raised from one week old by a lovely foster mama who just did wonders for them. I am so thankful for all the work the rescue and the foster mom put in to save these little girls!
So there you have it! That's the story of our little Cricket. Things are going pretty well for our first couple of days. We're giving Jeans plenty of time to adjust and get used to her. He has a room that she's not allowed in so he can escape if he needs to. He's gotten close and sniffed her a few times, but he's still pretty unsure of her. It's getting better by the hour, I think, he gets a little closer and less skittish more and more throughout the day. We have our fingers crossed that they'll be buddies soon!
Please feel free to leave tips and advice for new puppy parents if you have it, we'd love to hear it!! xo