A few years ago, Chris and I spent the summer living with my mom is southern California. My mom is an expert thrifter. She goes to garages sales, thrift stores, and flea markets weekly, and Chris and I got into the habit of tagging along with her. L.A. has some amazing flea markets, and at one in particular Chris and I started a new collection: old photos. One seller had boxes and boxes of photos, and we spent at least an hour going through them and picking out our favorites. We ended up collecting quite a few photos that summer, and they're very special to us. We haven't had much luck finding any old photos since that summer, but what we have now is a great little collection of forgotten memories.
Part of what I love about vintage and thrifted goods is that every once in a while, you can get a glimpse into the previous owner's life. One time, I bought a travel bag and in a hidden pocket inside was a typed list of members of a group called The Rusty Nails. There wasn't any information about what the group was, just pages and pages of people's names and addresses. I love finding these kinds of things and imagining what these people were like. I may have one single photograph of someone, but they led a whole life that's a complete mystery. I guess that's the historian in me.
So on to my new blog feature! Every week I'll be sharing a photo from our collection in a feature I'm calling Snapshots. Some of my favorites have captions written on the back, and I'll do my best to copy that over to the blog. I might point out something I love about the photo, or maybe I'll make up a story about who I think the subject is, or maybe I won't say anything at all! I'm really excited about this, and I hope you guys enjoy this feature!
--------------------------------------------------------------------------------------------------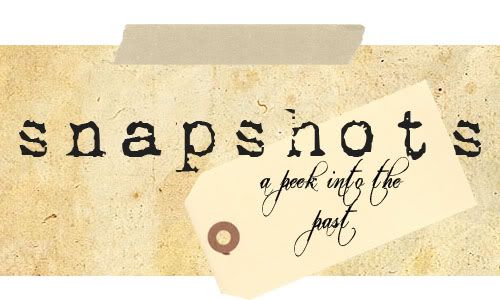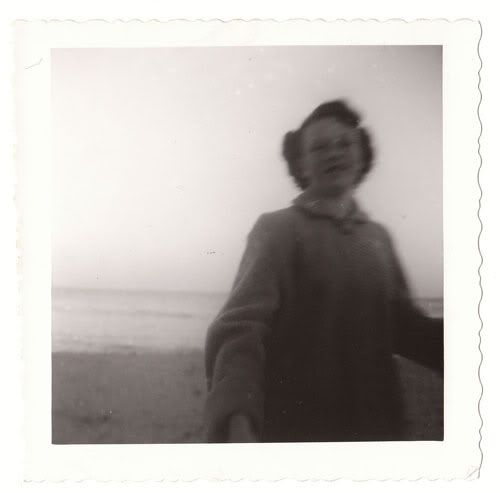 This is one of my favorite photos we have. I love everything about it- the blurriness, the eeriness... Why is she at the beach in a winter coat? Was she visiting somewhere new? Who took the photo? There's no date, but I'm fairly confident this photo is from the '40s. I love love love the scrolled edges of this type of old photo, I wish you could still get prints cut this way.