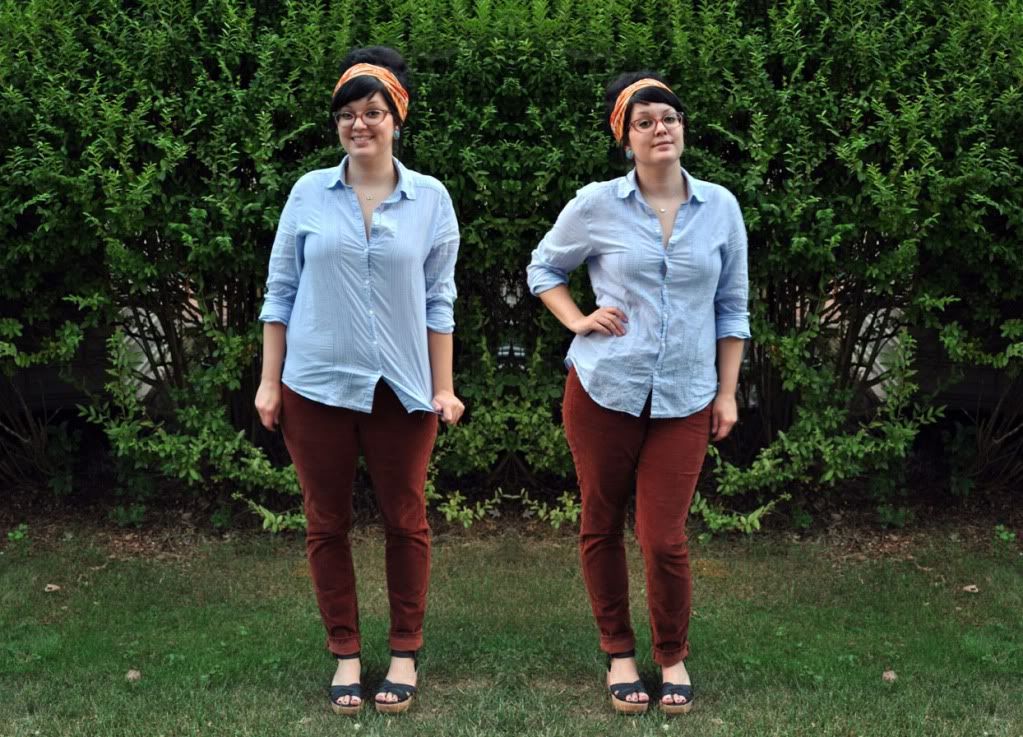 Glasses: Coastal.com // Shirt & Scarf: Thrifted // Pants: Kohl's // Shoes: Gypsies c/o Blowfish
I ordered new glasses a few days ago because I was fed up with the goofy ones I have. I have a normal pair of rectangular brown ones from when I got my eye exam, but they're men's glasses and are too big for my face. I also have two sort of wacky pairs from Coastal, but I was so fed up with goofy glasses I just had to get a more normal pair. And these aren't exactly normal, but they're a light brown and they're smaller than any of my other pairs. So! I'm happy. I had come home from work and they were waiting for me, so I threw on a wrinkled shirt and my fave cords and snapped a few photos. Chris was outside with me when I was taking these, and we tried to do a few jumping shots, but they were a miserable failure! Anyone have any tips??
Chris picked up a summer cold at work and passed it on to me (isn't that nice??), so I've been feeling like poop for the last couple of days. Yesterday was my day off and I was supposed to go into the city to visit my sister, but I kept falling asleep, and I didn't want to pass my bug on to my sister and nephew, so I opted to stay home. Good thing I did because I took like five naps, and stayed in my pajamas for the entire day. Chris brought me dinner and I felt a little better, so hopefully it's on its way out. I really hope so, because on Monday I'm driving out to Indianapolis for a little girl's trip with
Kaelah
for the better part of the week! I'm so excited to take a little break and hang out with her, and it's extra awesome because we've never had strictly girl time! All our visits have included the boys, I think we had maybe half a day one time where we went shopping by ourselves. But this is going to be awesome, we have so much to talk about, what with her wedding coming up and my Renegade plans... I can't wait!!