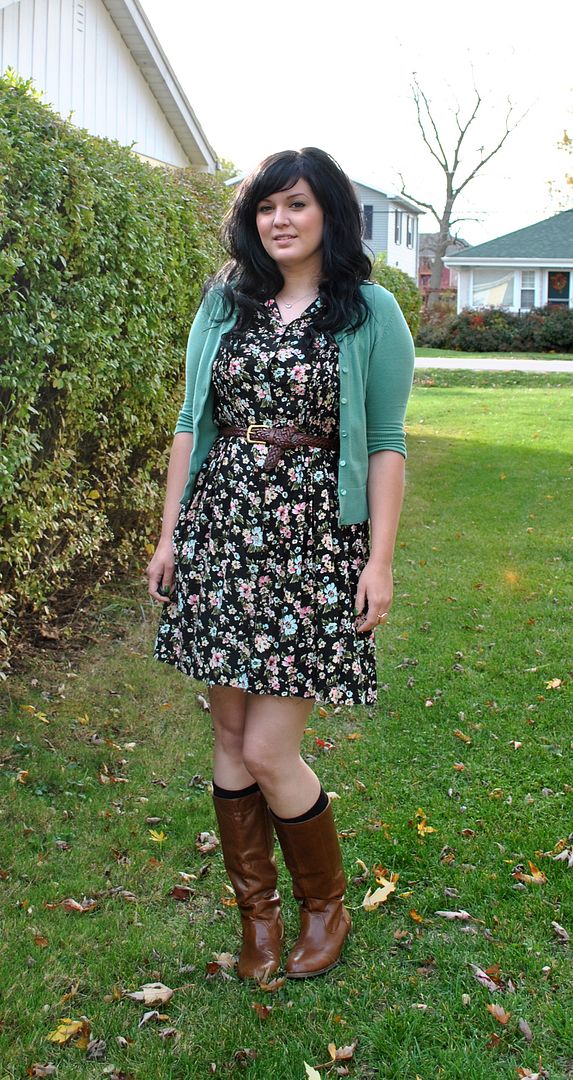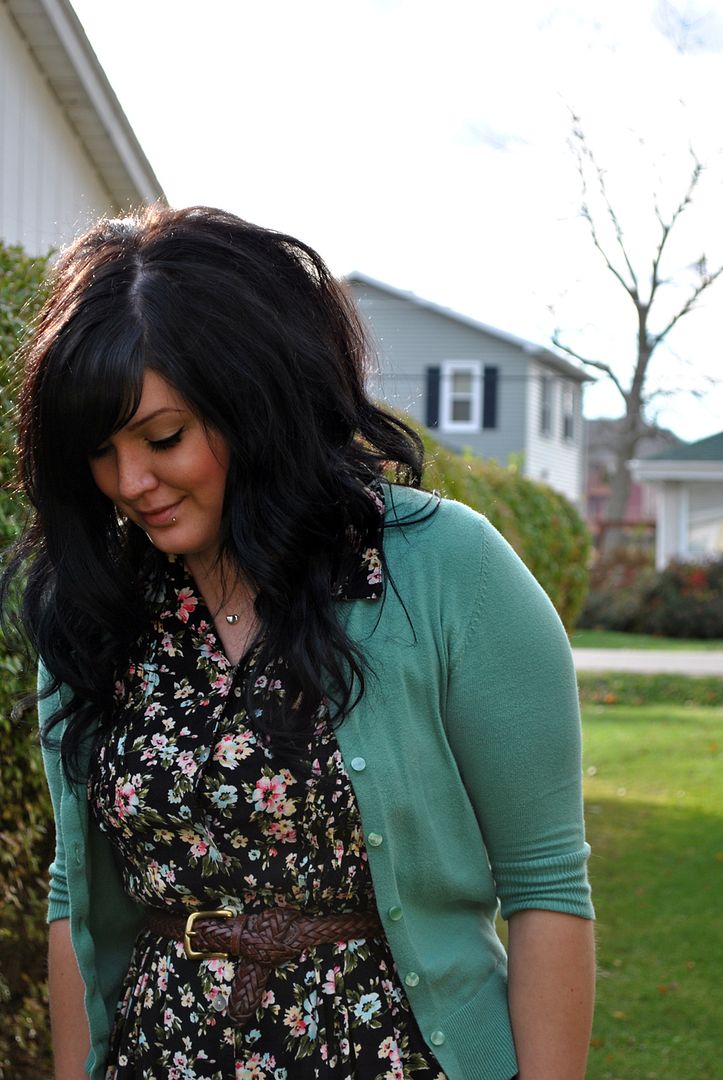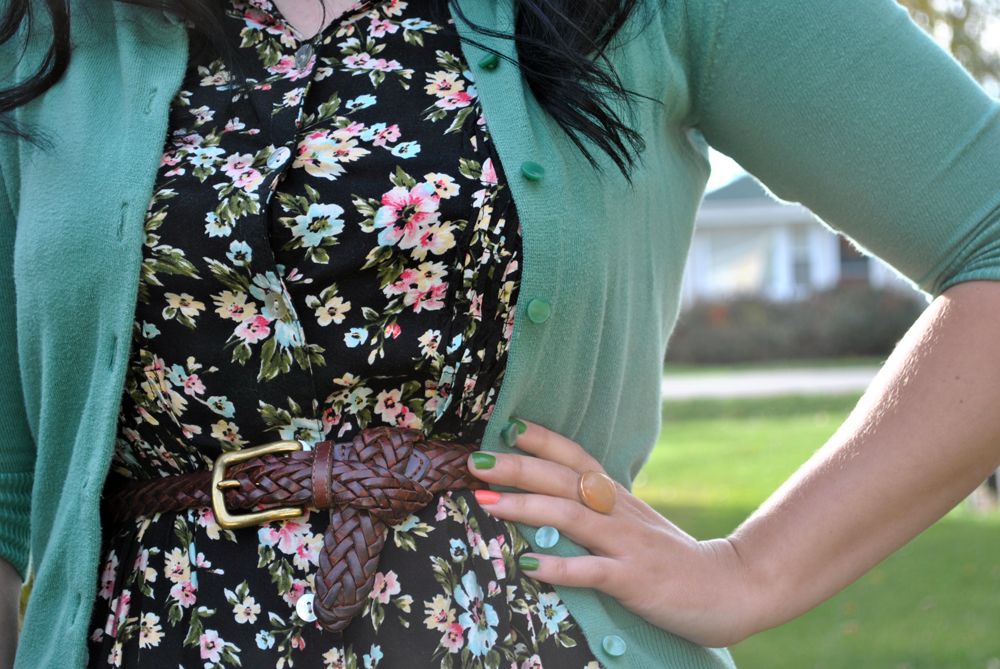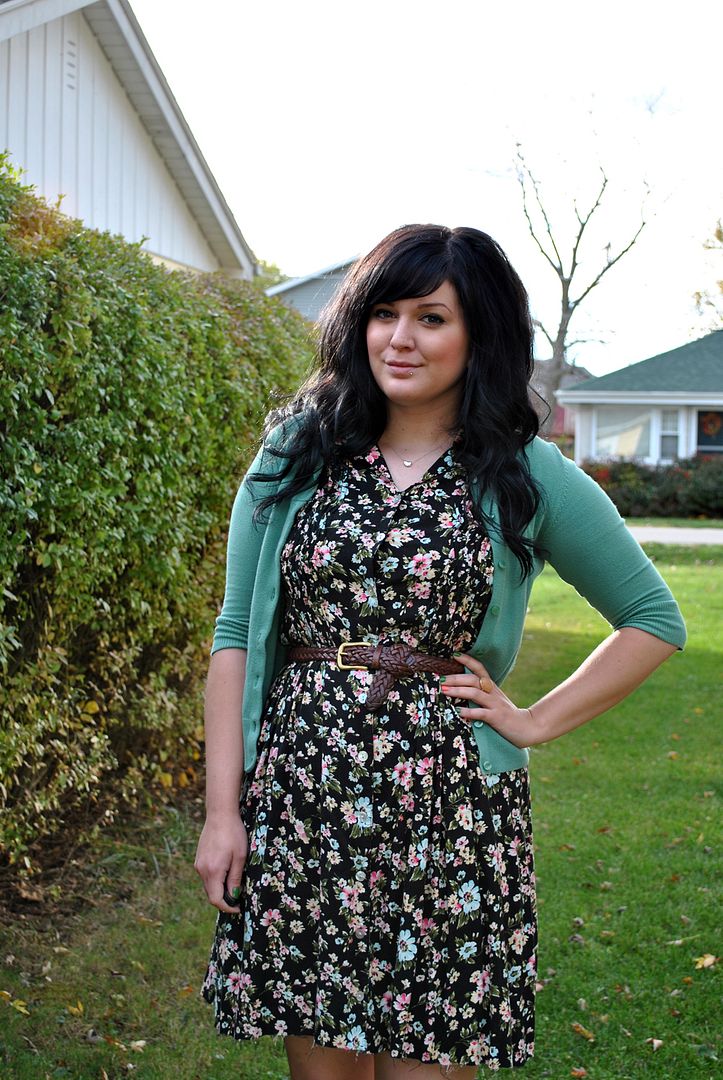 // Dress a

nd Belt: Thrifted

// Cardigan and Boots: Target // Ring: Vintage (st

olen from my momma //
I feel like a hypocrite here because I was
just complaining
about eBay sellers who hack off the bottoms of vintage dresses, and here I am in a dress I chopped apart. I didn't even hem it before I took these photos! But this dress is a thousand times better short than it was as an ankle length one. I guess my thing with the eBay sellers is that they take away the choice of altering a vintage dress, plus they cut it to fit themselves or their model, rather than leaving the buyer the option to change the length according to their height and proportions. I'm all for altering dresses if need be! I have a pile waiting for their turn at the sewing machine. They've been sitting there for a while, though, but it's on my to-do list!
I wore this outfit out to dinner with Chris's family at
Texas de Brazil
. We were celebrating Chris's and his dad's birthday, as well as his dad and stepmom's anniversary. I hadn't been to Texas de Brazil before but I heard good things! The salad bar was amazing, but the best part was the guys who walk around with huge skewers of meat (sorry veggie friends!!). You may not know, but in all my 26 years I had never eaten beef, no hamburgers or steak or anything of the sort! But, Chris was raving about how amazing the steak was at this place, and he said if I was ever going to try red meat that this was the place to do it. So, I did! I tried filet mignon, and I have to admit, it was really good! I feel like I've ruined my chances of enjoying it again, if I tried top of the line steak for my first taste, will I ever be able to eat ~regular steak??
It's been raining here pretty much daily, so we've been sticking close to home for the most part. I got a bunch of orders shipped out, and I've been working on some cute new things to list soon too! I'm also itching to start a quilt but I'm also kinda terrified so I just obsess over it without actually putting any work into it. Any tips for a quilting newb??